If you're planning on any exterior painting for your brick house this year, you need to read these tips!
1. Choose Paint
 For the primary color, choose a neutral background that matches the neighboring scenery. Your secondary color can be brighter and will be used as an accent for the fascia, gutters, window trim, and railings.
 Semi-gloss or high-gloss will accentuate surface details. These are ideal for places with a high degree of moisture and dirt. They're easier to clean because you just have to wipe them down with a rag and an all-purpose cleaner. Since they're harder to touch up, be extra cautious when painting to avoid streaks and brush marks.
 Use elastomeric paint for the highest durability. While it costs more, it outperforms acrylic paint. It's resistant to sunlight, heat, cold, and wind-driven rain. This makes it ideal for exterior applications. It's dense enough to fill brick cracks, but you'll still have to apply 2 coats.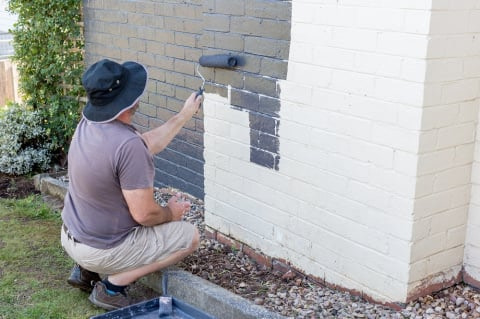 Acrylic latex is a cheaper option. It's also great for outdoor painting, as it deters moisture, which helps prevent mildew. This type only requires 1 coat. The only time you'll have to apply 2 coats is if you see some white wall spots behind your first layer.
2. Prepare Brick
 First, clean the brick surface thoroughly. Water is an effective initial dirt and dust removal agent. Start with a spray hose. For those stubborn deposits of salt and dirt, use a stiff-bristled brush. A pressure washer will also work but never use acid-based solutions.
 Second, cover windows and doors with newspaper, affixed with painters' tape. For larger areas, use multiple layers. You have to cover the entire surface, along with anything else you don't want to paint, and fasten everything securely with the tape.
 Third, make repairs to wall cracks with acrylic caulk. A scraper will let you open them wider for better access. Brush out the dust with a straw cleaner. Fill the crack with caulk, and use a putty knife to make it flush with the wall. House painters in Gilbert, AZ advise that drying will take about 5 hours.
 Finally, apply a primer to the brick surface. Start at the bottom of the wall about 6 inches from the corner. Roll upwards with light pressure at a slight angle until you're a few inches from the top. As you roll up and down, overlap your strokes while moving back to the initial corner. Follow the manufacturer's instructions about how long it takes to dry before proceeding with your chosen paint.
3. Paint Brick
Paint rollers work best for smaller brick surfaces. Just dip your roller into the paint a few times and start rolling up at a slight angle while applying pressure to the brick. You want a roller with a thick nap, as this will help you cover surface irregularities that are common in brick.
 For larger surfaces, consider a paint sprayer instead. Create a thin, oval spray pattern with a vertical sweep. Make sure to overlap each paint strip. Your speed should be consistent during the application. Keep a paintbrush close by so you can remove drips as soon as you spot them. Just spray over any brush marks until they disappear. When painting corners, hold the gun sideways. If the coat is too thick, you can move the gun faster, spray further back from the wall, or select a smaller spray nozzle.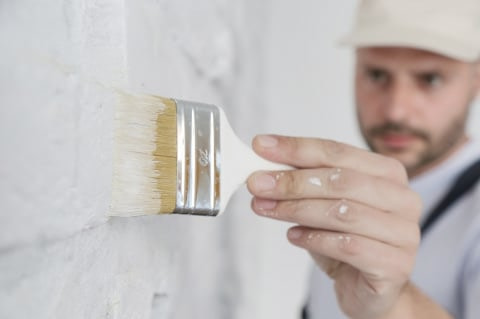 Follow the instructions on the paint bucket about how long it will take the paint to dry. Final touches will need to be done with a paintbrush, regardless of whether you use a paint sprayer or roller. When painting by hand, use a gentle touch to avoid brush marks.
 There are exterior painting companies in Gilbert, AZ that can do the work for the same price as you would pay by doing it yourself. When you factor in purchasing materials and the amount of time it will take you to do the job, you're better off hiring a professional exterior painting service. Call Life in Color Painting Services at 480-229-7615 or visit their website at lifeincolorpainting.com to schedule an online appointment.