With summer here, many homeowners like to take the opportunity to get projects done that will improve their home. A lot of these projects are outdoors. Painting the exterior of your home during the summer months is a good idea because it's warm and dry enough for paint to go on well. Before you start your painting project, here are some tips we like to share from professional house painters in Tempe.
Trim Surrounding Plants
Many homes in the area have trees planted near the house to provide some shade. If you have palms or other plants that are too close to the exterior walls of your house, go ahead and have those trimmed back so they don't get in the way of the house painters as they work. After the plants have been trimmed, the painting crew will likely cover up bushes, rock landscape, and other plants and hardscape with canvas or tarps to keep paint from splattering on them.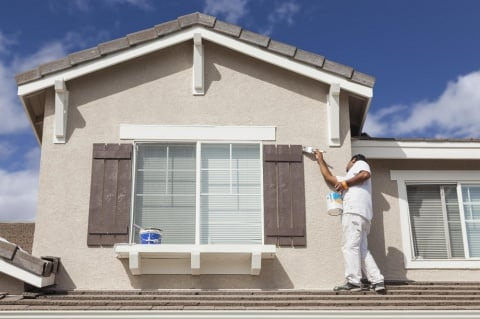 Clean the Surface
Before employing an exterior painting service in Tempe, we recommend power washing the outside of your home with water. This will serve two purposes: First, it will wash away dirt, debris, bugs, nests, and whatever else has built up on the side of your home over the years. Second, it helps knock off any loose or broken pieces of siding. A clean surface allows primer and paint to better adhere to the surface. Also, it allows for even coverage of the entire area.
Scrape Away Loose Paint
If you have paint peeling from any exterior surface, use a putty knife to scrape away anything that is flaking off. Exterior painting service professionals need a clean and smooth palate to work on for optimal results. Trying to paint over peeling paint will only result in future peeling at the same location. While you scrape away, it is also a good idea to look into why the paint is peeling. It could be that an inferior paint was used during the last application, or perhaps too much water is hitting that spot daily.
Make Necessary Repairs
After the power washing and scraping is finished, we encourage homeowners to have any necessary repairs made to the exterior surfaces. This could include patching stucco, caulking around window and door frames, replacing rotted or termite damaged wood, and waterproofing around the foundation. Making all repairs before painting is best so that you don't have to worry about trying to match paint with patchwork later. Besides, it's nice to just get everything done all at once. For any extra questions, contact the professionals at Life in Color Painting, LLC to make sure you've got all the information you need.