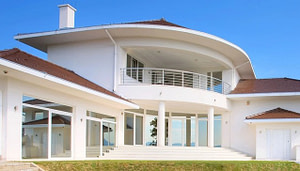 Exterior house painting can completely transform the appearance of a house. It improves the value and the aesthetic appeal of the building. It also protects the house from the elements.
Let's just say, painting the exterior of a house is well worth the effort.
Exterior House Painting
Now that we're on the subject of efforts, how difficult is painting a house? Generally not the simplest of tasks. Several steps are involved, and your muscles won't be so pleased with you afterward.
Unless you use a professional painting service you don't want to do this anymore than is necessary. That said, maximizing your exterior paint and making it last as long as possible should be one of your goals when it comes to exterior house painting.
Luckily, we've got some tips that will help you extend the life of your new paint job –
Prepping is just as important as painting
Slapping paint onto a rough wall full of holes and bumps is a rather bad idea. If you do this, in a short time, the paint will chip and start to peel. Your best bet to avoid this is to ensure the surface you intend to paint is clean, dry, and level.
Take the time to do this with the appropriate grit sandpaper (80 grit for very rough surfaces). Don't forget to also remove mold and mildew before painting.
Priming
Painting your wall without adequate priming means you risk the paint peeling, especially in humid conditions. Primer often has a glue-like base which helps the paint adhere more strongly. This ensures your paint lasts long. Also, it makes for a better paint job so you don't feel the need to change it after a short while.
Buy high-quality paint
Cheap paint is only great for your pocket at the initial stage. In the long run, you'll see why you should have added a little extra money and gone for the real deal.
Good paint won't peel easily and will the harsh exterior conditions better. Also, for exterior painting, 100% acrylic latex paint is recommended. It adheres better to the wall, is more durable, and retains color better.
Choose the right color
Painting the exterior of your house white might look all artsy and beautiful, but how long do you think that's going to last? Not very long, unfortunately. Dust, rain, debris, or just about anything could discolor it.
Also, bright colors become dull quicker than earthy tones or colors that have some shade of brown, tan, beige, taupe, or grey. They are more functional for the outdoors but just as aesthetically pleasing.
Know when to paint
When you paint matters almost as much as how you paint and what you paint with. Temperatures of about 60oF – 85oF are best for exterior painting. Therefore, it's best to paint during spring or fall, or even in summer as long as it's not too hot. Also, keep an eye on the weather channel for rain.
Apply a generous coat
Thicker coats of paint look better than the much thinner ones. They also offer more protection from the elements. Don't use a thin coat just so you can save money. In a couple of years when the paint job needs to be redone, you'll regret why you just didn't paint it better.
Exterior painting won't last forever. A period of 7 to 10 years is typical. If you do a bad job of painting, it won't last this long. To avoid this and also extend the life, implement the tips above.
The best way to ensure your exterior painting lasts long is to outsource the task to an exterior painting service.
At Life in Color, we are a professional exterior painting service. Our expert painters deliver top-notch painting jobs every time. With us, you can rest assured of efficient exterior house painting services. Call us today at 480-229-7615.