If you are hoping to use this nice spring weather as a time to paint the exterior of your home, this is the time of year when many people choose to tackle such projects. Sadly, many of these same people are left tired, dirty, and very frustrated at the end of the day, as they were unsure of how to make the process go smoothly. Some tips from a professional painting contractor can make all the difference when it comes to a project of this nature. Check out the following very helpful tips that can help you get your exterior painted in a way that leaves you happy and satisfied with the end result.
Check the Weather
With all of the technology at your disposal, there is really no excuse to have the weather wreck your efforts to make your home look amazing. Even a professional painting contractor will wait for fair weather to complete a job of this nature. Even if it is not raining, other weather conditions can cause big issues. If you see the following weather patterns on the calendar, then don't plan to paint your home on those days: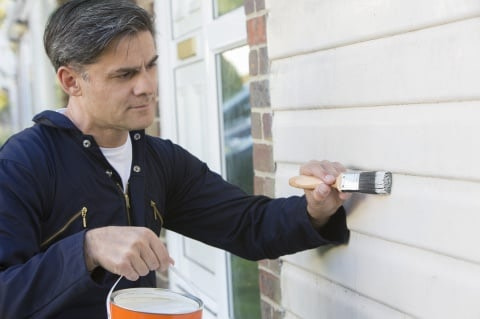 Rain
High levels of humidity
Big changes in the temperature
Heavy winds
Get the Good Paint
When it comes to paint, you will get what you pay for. This is not a product that you want to go bargain-basement for. Ask the specialists and invest in a high-quality paint. In the end, this move will save you time and could even save you money, as you will need far less of the high-quality paint to cover your home.
Properly Prepare the Home
A work of art can only be as good as the canvas it is painted on. If your home's exterior canvas has dirt, grime, peeling paint, cobwebs, leaves, and other such debris, then your painting efforts are going to turn out rather subpar. Take the time to wash your house and to sand off any peeling paint. Renting a good power washer and clearing away all of the debris will make the painting easier, and it will look much better in the end.
Make Repairs before Painting
If you notice any trouble with your siding and casing, the time to tackle these repairs is long before you purchase your painting supplies. Trying to paint damaged siding, rotted casing, and exterior holes can end up exacerbating the problems. You need to look for any repairs and get them handled before the painting efforts can begin in earnest.