When you are house painting in Mesa, perhaps the best thing that you can do is hire a contractor rather than take on this work yourself. Hiring a professional will help you save money and time and also ensure a job well done. If you do decide to take it on yourself, here are 5 key tips to help you get the results that you want.
Choose the Right Color
Choosing the right paint color is no simple task. The color of your house is the first thing that people will see and notice about your home, so the right color that sets the right tone and fits in well with the neighborhood is important. You might like a bright and bold color or even a pattern, but if it makes your house stand out, it might look odd, make the neighbors upset, or even make your house a bigger target for theft or vandalism.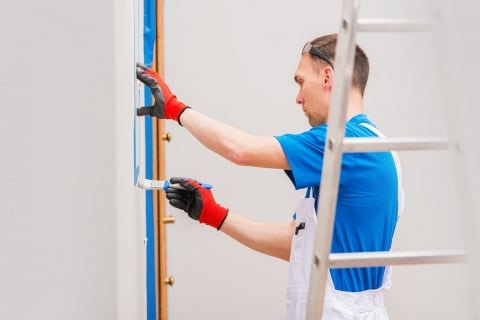 Choose the Best Paint
When you are out shopping for paint, you are naturally going to look at the prices of all the different kinds of paint. Make sure you talk with some professionals who are experienced with exterior house painting to make sure you get the right texture and look that you want for your home. Depending on the material that your house is made from, different paint will hold to it really well or not, so seeking advice from a professional will be extremely helpful.
Prepare the Surface
Preparation is the most important step in the exterior house painting process, so you simply cannot afford to skip out on any part of the prep work or take it lightly. Make sure you prepare the surface of the house by sanding away any chipped or peeling paint and cleaning up any damaged siding. Make sure that you go through the appropriate process for cleaning the exterior, depending on what material your house is made from.
Use Both Brushes and Rollers
Many people who undertake the task of painting the exterior of their home will argue that brushes are better, and others will debate that rollers are the way to go. However, both brushes and rollers have a purpose; so, for best results, plan to use both for different sections of the house.
Paint from the Top Down
You will have a more consistent paint job if you start from the top and work your way down. Because you will be working on a ladder, make sure that you know all about ladder safety and are wearing the appropriate safety gear in the event of a fall from that height.