Painting the exterior of your home is a big project. It can be time-consuming and expensive. While it's difficult for a DIYer to estimate how long it takes to get the job done, you can get a pretty good estimate of the cost.
The Size of Your Home
How much paint you have to buy obviously depends on how much square footage you have to cover. Usually you can expect 2-story and 3-story homes to require more paint than 1-story homes. But the actual price difference really depends on the length, width, and height of your walls. If a 1-story home is unusually large, then it may take just as much paint for the exterior walls than a small 2-story home.
To calculate the square footage, you will need to measure your walls and add up the area of each side. You will need to double your final number, because you can expect to paint your exterior walls twice.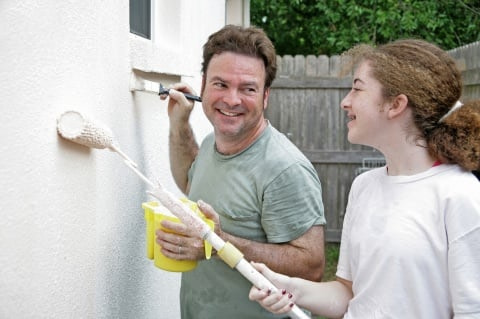 The Type of Exterior Walls
Exterior walls can be made with vinyl siding, stucco, concrete siding, metal siding, or wood siding. While the type of material doesn't affect the square footage, it will affect the cost of the paint job. Some materials have to be prepped before they can be painted. Sometimes it's necessary to take the old paint off, and more often than not, there is some minor damage that needs to be repaired.
As a general rule, it's more expensive to paint wood and stucco than vinyl, metal, or concrete. Stucco requires extensive prep work as well as specialized paint. On the bright side, painting wood siding can actually help protect your home exterior from further damage.
Painting Supplies
Professional painters already have painting supplies on hand. But homeowners may need to invest in rollers, paintbrushes, painter's tape, and tarps to do the job themselves. For exterior painting, a paint sprayer may be a good solution, but it actually takes a lot of practice to do a good painting job with a sprayer.
Additional Paint Jobs
While you're currently only thinking of exterior house painting in Mesa, eventually you'll notice that additional paint jobs may be needed. Once the exterior is looking really good, the doorframes and window frames will catch your attention. Depending on how many doors, windows, and shutters you have to paint, you can expect to spend several hundred dollars for these extra paint jobs. If you also need your porch repainted, that will increase the total even more.