Painting a stucco house is a great way to add some charm and curb appeal to your home. This is especially helpful for older homes. A nice coat of paint can do a lot to improve the way a home looks. That being said, this kind of house painting is very complicated at times. Things have to be done just right, or the house can get damaged in the process. Another danger is ending up with your house looking worse than it did when you started. Consider these tips when you decide to take on this big task.
Clean the Surface
This is the most important part of the entire process. Stucco is a material that can get dust, grime, leaves, mold, and other debris stuck in the different crevices. The texture of stucco is what people love, and yet it is a two-edged sword at times. It is the texture of the stucco that makes it so hard to clean out.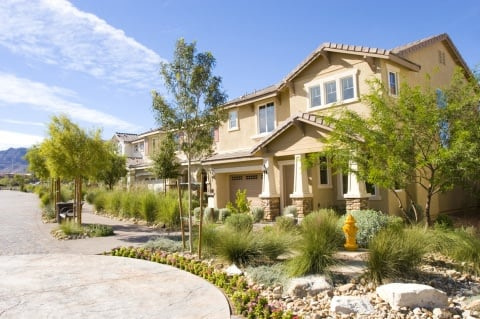 When professionals tackle this kind of job, they tend to come with high-power washers. This type of equipment sprays down the stucco with water at a high speed. Power washing is one of the best-proven ways to get the most stubborn dirt and debris off the surface of the home.
Repair Cracks
The clay-type material that stucco is made out of tends to become cracked with age. If you are trying to paint an older home, then you will need to look over the surface of the entire house and look for any damage like cracks or holes. Once these are all found, you can get to work repairing them.
Repairing these cracks is simple, but you have to be sure that you find all of them. A little bit of caulk can fill in these areas. This will help the painting to go faster, and can also protect your home from dangers like pests, moisture, and other such frustrations. Once the repairs are done, you will have to wait about a week for the repair material to properly cure and harden.
Tape
This is one of the steps that a lot of people try to skip. That would be a mistake. Take the time to tape over all the windows and any trim that you want a different color from the main body of the house. This will protect those materials, and will make the painting process go a lot smoother as you will not need to be as cautious.
At this point, you will be ready to prime and paint the house. Things will go so much smoother with these preparations in place.