Exterior painting affords you the opportunity to dramatically alter and improve the appearance of your home, bringing an outdated building into this decade, replacing flawed paint, and even making your home appear larger. Of course, all of this depends on you trusting a reliable exterior painting service in Gilbert with the job. Exterior painting is tough work. For instance, take all of the work that must be done before you even apply the first set of bristles to the wall.
Materials
It takes a staggering amount of materials to paint a house, but this is nothing to an actual exterior house painting company, which is well-stocked with goods for daily paint jobs. Pressure washers, scrub brushes, wire brushes, scrapers, caulk, sparkling compound, sandpaper, ladders, cloth, primer, and sealant are just some of the many materials that they need. In addition, preparing for a paint job requires the right safety equipment, including gloves, googles, and paint-safe clothing.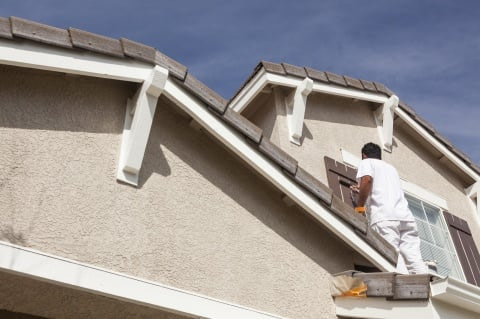 Cleaning
The first step to preparing a house for its brand-new coat of paint is getting it nice and spiffy. Painters will use a pressure washer and detergent to wash dirt, grime, and other contaminants off the surface. Don't worry, they know how to avoid breaking windows or denting shutters. The house will also need to have chipped or cracked paint removed. If your home was built in the 1970s or sooner, it may have lead-based paint, which is highly toxic and must be removed with extreme caution. Then, mildewcide may be necessary to prevent fungal growth on the walls.
Repairs
Repairs are also necessary so that the paint is applied to a flat, even surface. Splintered wood, cracked brick, old caulk, and other surface flaws will require repairs. Surface repair compound is designed for this purpose. You may also need to re-putty the windows to keep them properly sealed.
Starting to Paint
First, your plants will need to be protected with drop cloth. Wood and other surfaces will need a specific type of primer so that your final paint job looks smooth and elegant. Then, it's time to start painting. While all of this work is exhausting, any reliable exterior painting service in Gilbert will know exactly what it takes to make sure your house is ready for a brand-new coat of paint.