One of the most important aspects of house painting in Mesa is making sure the surface is properly prepared. One important step in home painting service in Mesa is pressure washing the entire exterior. This is important for a few different reasons. Here's what you need to know.
Paint Adherence
Just as you would apply a primer or wash the walls of the interior of your home before painting, the walls on the exterior of your home should be washed prior to painting so the paint will adhere better. Pressure washing removes the dirt, mildew, dust, and other debris that accumulates naturally over a period of time. Even if you regularly hose down the stucco, there's a layer of dirt that you never see. The paint below that layer of film needs to be exposed to allow the new paint to bond properly to the surface.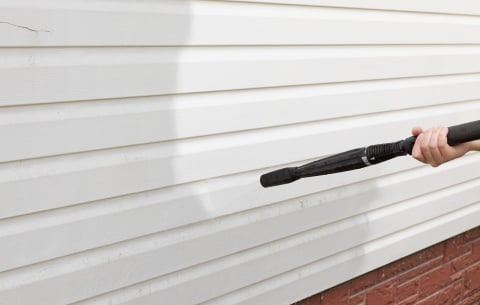 Avoiding Uneven Patches
Dirty areas on the surface of your home's exterior can cause uneven areas in the paint. Even if your home's exterior is relatively clean, there's inevitably going to be dirty patches that will appear to be covered up by paint initially. Unfortunately, those areas will likely bubble and peel away sooner than the rest of the paint on the house because it was only applied to the layer of grime, rather than the house itself.
Detergent Use
The use of detergent during pressure washing is important to remove hidden grime that you can't see and can't remove with a regular hose. Oily residue can be removed with a detergent specifically made for power washers, and you can even find eco-friendly detergents so that surrounding vegetation isn't affected.
Deep Cleaning
After using a detergent, the professionals will once again use a high pressure setting to remove any stubborn areas of dirt. The detergent will have loosened up the grime so that the water can effectively wash it away.
Other Considerations
It may be tempting to purchase or rent a power washer to cut costs on painting preparation. However, it's important to remember that inexperience can easily result in dips or canals being carved into the surface of your home which are difficult to disguise. It's best to leave the power washing to the professionals to avoid damage and ensure a properly prepared surface for paint.