Traditional and charming, colonial-style homes are a popular alternative to the minimal and stark contemporary designs that are popping up across the country. If you prefer a warm and inviting vibe in your home, take inspiration from inspiring colonial homes. 
Much of the design choice you take home relies on the right paint color. The wrong choice of color can make your home look completely different than the style you intend it to be. This is especially important when choosing exterior paint. Ask a professional painting contractor in Mesa, AZ. If you want to make your home look traditional, inviting, and colonial, try these beautiful exterior paint colors.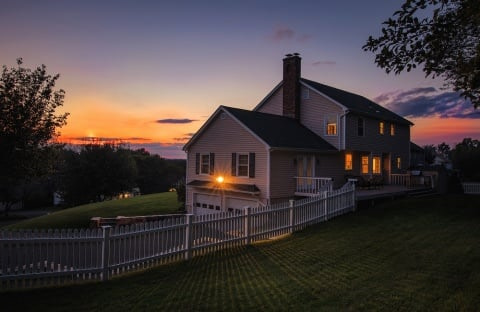 Dark Browns
Most colonial homes were built before exterior paint was accessible to the masses, and was only used by the very wealthy. Therefore, homes typically resembled the material that was used to construct the home, like freshly cut wood. Dark, wooden tones are excellent for giving your home a natural, colonial atmosphere, as if your home is a well-preserved historical landmark. 
Just be sure to hire a professional house painter to apply the paint to proper effect. Dark browns that are too dark or have too much of a warm color like red or orange mixed in can look very outdated. 
White 
Detail the architectural features of your home, like columns, windowsills, and doorways, with white paint. White will make features stand out against a dark background, like dark brown siding paint. White will highlight what you want people to see, so that features that you want to hide, like electrical boxes and exposed pipes, recede into the background.
Black
Black detailing on a white background gives your home a more Spanish colonial vibe. A professional house painter can give your favorite architectural details a highlighting treatment with solid black. Also try navy blue as a handsome alternative, for those who think that black paint is too intense or a touch too dark for their tastes. 
Bright Blue
For a more Georgian colonial look, more common in the southeast states, try painting shutters and doors bright blue. This color will pair well with earthy paint, neutrals, and especially your landscaping. Bright blue can be too baby blue-ish or even garish if it's not mixed and the surface isn't primed properly, so always trust a professional painting contractor when you're working with risky color choices like bright blue.
Red-Brown
Brick is a popular building material in Colonial Revival architecture. If your home wasn't built of bricks but you still want to create the impression that it was, paint large exterior surfaces red-brown, which is a classic color choice of old-fashioned, baked-clay bricks. This trick is particularly effective if you're painting a stucco house.
Gray
Varying gray hues are great middle-ground paint colors that balance modern design tastes and smarts with old-fashioned character. If your home has colonial character and you actually want to modernize your home a bit, try painting your home gray. Use darker shades of gray to emphasize doorways, windows, and roof eaves, and almost-black to give the door and window muntins eye-popping personality without feeling too contemporary.
For more tips on painting your home to achieve a beautiful effect, call a professional painting contractor in Mesa, AZ, like Life in Color Painting. A team of trained, experienced professionals can give your home a long-lasting, beautiful coat of colorful paint.