When you decide to tackle painting the exterior of your home in Mesa, it's easy to just focus on the end result: a fresh, beautiful look that will boost your house's appeal. But that outcome doesn't happen without proper preparation. And while the pre-work can be time-consuming and tiring, the importance of undertaking the required steps is critical to an optimal job. So, if you want to do the job right, be sure to follow a proven process.
Clean the Surface
If you think the inside of your home gets dirty, just imagine what accumulates on the exterior surface of your house, from dust and grime to spider webs and debris. Removing all of these contaminants is the first step to preparing your house for a fresh coat of paint. If you don't remove, the paint will adhere to the residue and not the surface, resulting in chipping and peeling well before the end of the paint's lifespan. To ensure a proper scrubbing, you can clean the surface by hand with a long brush or with a pressure washer. For maximum effectiveness, use a pre-paint cleaner mixed with water – or even bleach if you need to remove mildew.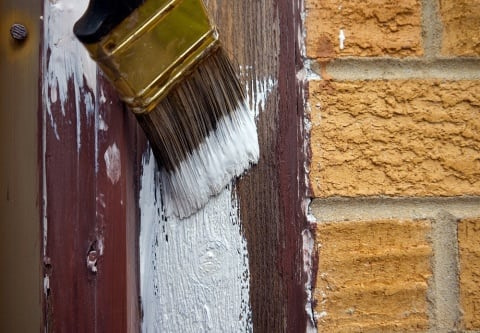 Give the Exterior Time to Dry
A good cleaning will wet the entire exterior surface of your home. And since primer and paint won't adhere properly to damp surfaces, you'll want to wait a few days for the siding to dry out completely before you pick up your brush. While it may be tough to be idle if you're anxious to get started painting, your patience will definitely pay off.
Remove Peeling Paint
One of the first signs your home needs a paint job is peeling paint. And you'll need to remove all of those loose pieces before applying a new coat. To adequately scrape off any peeling or curled paint, select a scraper with a long handle for better reach. And be sure to replace the blades when they become dull. Just be aware that you can gouge the siding if you're too aggressive with your scraping.
Sand Smooth
It may be time-consuming, but you'll want to make sure to sand the exterior surfaces smooth. The best option is to use an electric sander to speed up the process. If your surface isn't very rough, you can just use a fine grit sandpaper, but if you need to be more aggressive, you may need a medium grit. Just remember when you're done to wipe down the surface to remove the dust.
Repair
If you have damaged siding, you'll need to tackle those repairs first before starting on your paint job. And since nail pops are common on siding, for a quality paint job, you'll want to set them before you start the project. Simply use a hammer and sink them just slightly below the surface.
Prime and Caulk
While not every job will require priming, if there are sections of your exterior that are bare, either from removing peeling paint or repairs, you'll want to use a primer so the paint will stick better. If you don't need to prime, the final preparation step is caulking. Caulk not only enhances the beauty of your paint job, it can also help protect against water damage. Be sure to use it anywhere there are gaps, like where the siding meets the trim.
For exterior house painting in Mesa that will look beautiful for years, proper preparation is key. Follow these steps for a lasting finish.