Garage doors are more than merely functional. As one of the first things a person notices when they see your house, your garage door is an important part of your home's curb appeal. As a design element, it's in a unique position. On the one hand, it's part of the front of your home and needs to blend in, but on the other hand, it stands alone as a separate and distinct entity. The question then is, what's the best way to paint it? Before hiring an exterior painting service in Chandler, AZ, to paint your garage door, here are a few things to consider.
Keep It Simple
When determining the color of paint that works best for your garage door, a lot of people like to go with something basic. You can't go wrong with white when it comes to picking a shade that matches pretty much any material a home is made of and any other exterior paint color. While it's not the most exciting of colors, white works well with any colors that make up the rest of your house. When hiring a local painting contractor to paint your garage door, you can't go wrong with white paint.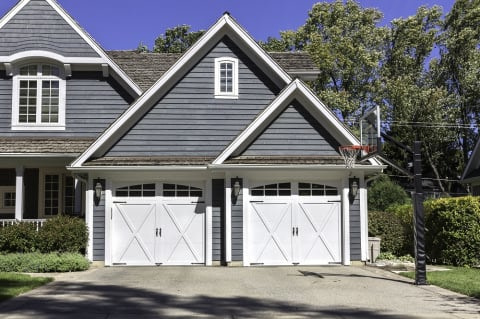 Drawing the Eye
There are a few elements of your home's exterior that naturally attract a person's attention. Your front door is one of them. Other features include the walkway leading to the front door and any porches or landscaping you're featuring in the front yard as well. The garage door serves a similar purpose. A thoughtfully painted garage door has the effect of inviting the visitor to enter the home's interior. Black, for instance, can sharpen your home's aesthetic focus, lending extra vitality to a house's appeal.
Deep Wood Tones
Some of the most popular trends in garage doors are those that feature a warm, wooded appearance. Painting or staining your garage door so that it evokes a natural or even rustic style has a comforting, elegant impact on the viewer. Porches, front doors, and porch ceilings are also ideal for wood-themed colors and elements as a complement to the garage door.
Neutral Gray
Gray has a classy look to it that makes it perfect for several different home styles. Tudor homes can look just as good with a gray garage door as a mid-century home can. It's an ideal means to make your garage door look simple and sophisticated without distracting from the rest of the house.
Beige
If you have a home made of stucco, you want a garage door that fits in. Beige or taupe blends seamlessly with stucco homes. Garage doors painted in these colors won't draw attention from the rest of the house but will retain a simple sophistication that enhances a home's presence in the neighborhood.
Whether you want to hire experts in painting a stucco house in Chandler, AZ, or you have a home of brick or wood, you can't go wrong with Life in Color Painting Services. We've been the East Valley's premier exterior painting company for more than 15 years, and we have the painting solutions you need to make your home as lovely as possible. Call us today at (480) 229-7615.