House painting can make a huge difference to the overall look and feel of your home. Exterior house painting in Gilbert, AZ, is in high demand, and especially during spring. Warm weather and lots of sunshine make spring the ideal time to pursue those painting projects you've been putting off. Whether it will be the first time you paint the outside of your house or exterior painting is something you regularly invest in every few years, professional painters can help you in the upcoming months. After all, if you want to paint the outside of your house, then this spring is the time to do it, and here's why.
Refresh and Recover from Winter Season
Many homeowners are curious about the best time of year to hire house painters to brush up on the exterior of their homes. Well, the answer is spring, and a big part of that is taking care of the exterior after colder months. While Arizona certainly has a milder winter than many other states, it's still a good idea to protect and replenish your exterior paint after the winter, especially if there's been a lot of rain. If it's been a long time since your house was painted or you notice how worn out the exterior looks, then the spring season is a suitable time for you to get things started with your exterior painting tasks. It won't take long for the painting project to get done, and then you can enjoy the benefits of a brighter, cleaner home exterior.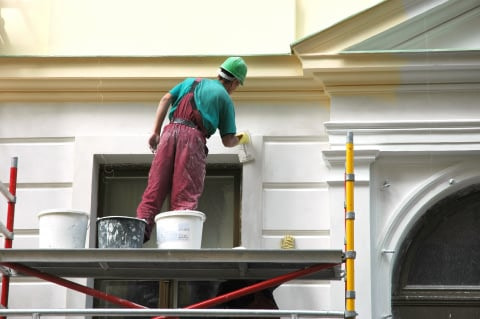 Prime Painting Time
Spring offers the best conditions for exterior painting, which is another key reason why you should be thinking about these projects at this time of year. Spring weather includes the ideal temperature range for the application of exterior paint. Especially living in a hot state like Arizona, scorching temperatures are not optimal for this kind of work as the paint may dry too quickly in the heat, making it difficult to get a solid, firm foundation. If you want to see the highest-quality results for your exterior painting, then spring is the season for you. Plus, it's logical to get the exterior painting done and out of the way before beginning other house and garden projects this season. Landscaping and gardening are a lot easier if you've already touched up your home's exterior. It makes sense to start with exterior painting and then keep checking items off your to-do list from there.
Enhance Your Home's Exterior in Time for Summer
When you choose to complete house painting in the spring, you can wash away mildew, mud and other dirt and grime while getting beautiful fresh coats of paint. Then your house will really look good ahead of summer parties and neighborhood gatherings. You'll likely feel more excited to welcome guests to your home when your curb appeal is taken to the next level with a fresh paint job. Plus, house painting costs are fairly reasonable, and you should be able to find a great deal on these services in the spring. Before you know it, your house will be standing out for all the right reasons with a fabulous new paint job that freshens up the appearance and increases your curb appeal. You can make your home look more attractive and appealing with exterior painting this spring.
A successful house painting project starts with the best local painting contractor in Gilbert, AZ. If you're ready for beautiful exterior painting, then contact Life in Color Painting Services today to speak to our professional painters.