Repainting a house can give it a whole new look. It's a reasonably affordable and fun way to make updates and can greatly improve the curb appeal of your home. If you're looking for a home painting company in Queen Creek, AZ, determine what external paint job you want done and how to prepare for it. Even a simple color change or some small touch-ups can freshen up and improve how your home looks!
Houses Take a lot of Beating Up
Think about it; your house takes on a lot of hardships day in and day out. With weather events such as heavy rains, strong winds, hot sun, freezing temperatures, and snow, it makes sense that the outside may show a beating after a while. Your home keeps you warm in the winter and cool in the summer, and little imperfections happen so easily. Sometimes your house has had enough, and it needs some love! Obviously, some areas of your house will be more banged up than others. Areas that are more exposed to the elements or are used heavily, such as the front door area or back patio space, could be first in line for some small touch-ups. Take time to go around your house and identity these spots. And remember, you don't have to do this makeover yourself! House painting services are there to rescue you anytime.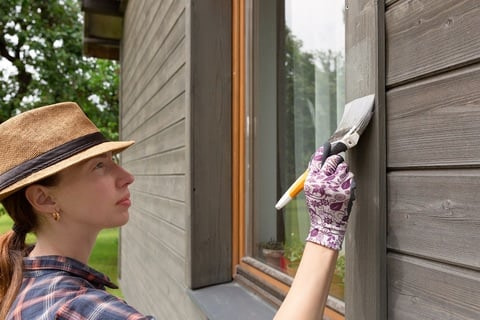 But Make Sure It's Not Just Dirt
Sometimes the marks you see are just some dirt that can easily be cleaned. Cleaning is much easier than going to the trouble of finding a matching paint color, ordering paint, and doing an entire repainting job. So, just get out the bucket and some water for a quick scrub. Power washing can make a home look brand-new, almost as if you got a new paint job, so be sure and test this out first. But, don't feel bad if the dirt you see may not be able to be cleaned off with soap and water or that power washer. Fresh paint is a whole new level of enhancement to your home.  After all, even if the paint is clean, it fades in the sun and just doesn't look great over time.
Matching the Color
Okay, so you've cleaned up and found the places that need a new paint job. But matching the current color of your house is almost an impossible task. Using the wrong color of paint for touch-ups can look worse than the marks themselves. It's common for builders to leave the original paint when they finish building a house, but if they haven't, it is best to use a professional service. If you have the original paint, add some water to it, so it goes on smoother and blends easier. This also helps if the outside color has faded in the elements. If you know the original tool that was used to apply the paint, replicate that as well, so it blends as seamlessly as possible. And always, stir your paint well before applying.
But Painting Is Hard
Painting actually does require some technique and skill. Hiring a house painting contractor may be the best money you spend, and it can save you a lot of time and heartache. An expert can help to match the color of the original paint and will better ensure no mistakes are made. Finding a local painter in Queen Creek, AZ, can help you improve your home and make it look good as new. Check out Life in Color Painting Services if you need any exterior residential painting and imagine your house transformed before your eyes!