Painting a home is a big job, but luckily it isn't a complicated one. You only need a few basic supplies, which you can pick up at just about any local hardware or home improvement store. Here are the most important supplies you will need, all of which can be provided by your house painting service in Queen Creek.
Before You Start
You'll need a few supplies to get ready before your home painting company in Queen Creek applies your new paint job. A measuring tape is important to measure your walls and make sure you buy enough paint. Drop cloths and tarps are also vital to protect the rest of your room or home exterior from getting splattered by paint. You may need a screwdriver to remove light switch covers and other fixtures that you want to get out of the way before painting.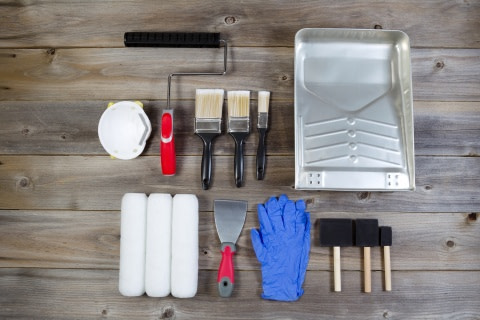 Preparing the Walls
Next, you'll need to prepare the walls to get them in the best shape possible. This makes it easier for the paint to adhere to the walls evenly, giving you a more professional look when you're done. The first step is to clean the walls. If you're painting inside, this won't add much to your overall house painting cost in Queen Creek, since you can usually just use a sponge and a gentle cleaning product. Outside, however, you may want to use a pressure washer to blast off dirt and old stains.
After washing your walls and letting them dry thoroughly, it's usually recommended that you apply a coat of primer before you paint. It's especially important on walls that have never been painted before but can sometimes be useful even if there's an existing coat of paint.
The Painting Process
You'll just need a few more supplies for the actual paint job. Aside from the paint itself, you'll need brushes, rollers, and roller trays. Painter's tape is a useful tool to cover the edges of trim, light fixtures, and other objects you don't want to get paint on. A stirrer will be needed for each color of paint you use (they usually come free with your paint) as well as a large bucket to mix gallons of paint for bigger jobs.