Painting your home is one of the best ways to refresh its look, try out a new style, repair wall damage, and improve your home's curb appeal for better resale value. But exterior house painting in Mesa isn't just about painting the walls. While professional exterior painters can make cladding materials look their best with a coat of gorgeous paint, it's also important to consider exterior trim. These features have a functional purpose like covering seams and boxing in windows, but they can lend visual drama to your home design.
The best exterior painting contractor can help you devise a color palette for your home exterior that includes walls and trim. The trim is especially important because it's far more noticeable than you might expect. Even if it doesn't take up much space, trim can be used to frame wall colors, highlight it, give your house an attractive structure, and even make it look larger than it is! But all of this assumes that you actually select an appropriate paint color.
Don't worry about making the wrong choice. Just read on for information that can help you select a beautiful, appropriate paint color. Here are some of the different types of colors that you should consider for your home trim.
The Classics
Go classic with your trim if you like traditional designs and staying true to old-fashioned architectural character. Classics include neutral colors like wood-tone brown, tan, beige, and sandy off-white. Black and other dark neutral colors are also classics, but their boldness lends a modern feel.
Classic trim colors such as these are versatile complements to almost any wall paint color. Many exterior painting services recommend these paint colors for home trim because they 're familiar, easy to match with, and rarely leave homeowners dissatisfied. Also, in a competitive housing market, it's important to consider colors that have mass appeal. If you're selling your home, paint your trim a classic neutral to increase your chances of garnering buyer interest.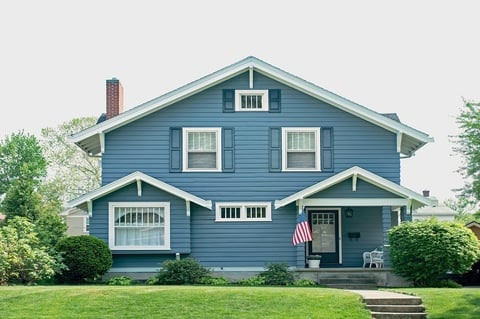 Bright Contrast
You can also be bold and adventurous with your color choices. Bright color contrast takes advantage of your choice of exterior wall color and then finds a bright, light, and personality-filled color to accent it. Like wearing a bright tie with a dark suit, painting a bright trim around a classic exterior is a great way to balance a little eccentricity with classic comfort. For example, dark gray walls give you the opportunity to paint your trim a dazzling light blue. Dark brown walls, meanwhile, would look excellent with desert pink or sunny yellow trim.
Find a color wheel online and go wild with bright accents that suit your choice of exterior wall paint. The goal here is to make architectural accents like windows, the entryway, and the roof catch the eye. Plus, the contrast between dark and light gives your house an attractive sense of balance.
Dark Contrast
Painting dark contrast is a little safer and more common than going bright with your house trim. At the same time, it can be just as interesting. For example, do you like white or off-white exterior walls? Avoid the common trap of going dull and old-timey with this look. Paint your trim a cool navy blue or metallic dark gray for fascinating color contrast.
Light beige walls look great with forest green trim, and light gray would look even crisper when framed with dark, rusty red trim.
Subtle Variation
You can't go wrong with this approach. Choosing subtle variation means choosing colors from the same family that are just a tad different. Painting your exterior walls and trim the same color creates a flat and boring look–not to mention a wasted opportunity–so try going with subtle variation. Do you want sandy brown exterior walls? Flagstone reddish-brown trim is a great complement that's not too distant. What if you have light gray exterior walls? A simple dark gray is perfect for trim around windows and roof eaves.
This is a great approach if you're afraid of color clashing or don't enjoy wild paint colors. It's simple to select a single color in two shades: dark on one type of surface, light on the other, while potentially throwing in a color with secondary notes of other interesting shades.
Do you want a beautiful new home exterior with a simple coat of paint? Call a home painting service in Mesa. Life in Color Painting Services provides affordable home exterior painting with gorgeous, long-lasting results.