With people utilizing their outdoor spaces more often for everyday life, there's been a renewed focus on outdoor décor. Designing the perfect outdoor space involves not only creating a palette and features that appeal to you, but also incorporating the beauty of the natural world into the overall theme. While much of your outdoor environment will be shaped by flora, features, and hardscaping, exterior house painting in Ahwatukee also plays an important role in melding your style with nature.
Just as painting an interior room with an en vogue shade can help you reinvent and rejuvenate space inside your home, paint can also serve as a critical tool in the outdoor environment for lending new life to a space and redefining your style. Even a little bit of color can go a long way towards adding a splash of flair to an otherwise mundane outdoor décor, but novel approaches to outdoor painting executed by exterior painters can also be transformative on a grander scale. Keep reading below to learn a few ways that you can use paint to spruce up your outdoor space.
Create Whimsical Art
Art is everywhere, and it's used to adorn the interior living spaces of almost every home. Why not put it to work in creating an outdoor space that's all your own? You can accomplish that by painting whimsical pieces of art in key places outdoors to add interest, splash color, and serve as visual centerpieces in your outdoor environment. For example, if you have a wide wooden privacy fence that is boring and utilitarian, you can convert it to a canvas for creation of a backyard masterpiece. Consider painting a simple tree of life silhouette on your fence to draw the eye, or use a blank, bare wall as the site for a colorful mandala. A strategically placed storybook window or mountain range on the side of an outbuilding or fence can also offer a clever way to make sure of space that would otherwise be mundane.
Paint Your Pavers
Another way to introduce color and patterns into your outdoor space is by looking beneath your feet at the pavers. While in some settings the weathered stone look of pavers may be perfectly desirable, those bricks and blocks can also be painted to create visual interest and a feeling of texture. Alternate colors to create a visual pattern, or intermittently paint random bricks to inject a highlight of color. Painting your pavers provides an excellent, easy way to introduce more color without putting forth a great deal of effort.
Pattern the Floors
A gray concrete patio or dull, weathered wooden deck doesn't do much for your outdoor aesthetic. However, those surfaces are perfect for an injection of color with the right paint and design. For example, consider painting a rug design on the deck to create a weatherproof faux floor covering that will amp up your backyard style. Or you can get fancy by painting a fractal pattern or false mosaic on your concrete patio. The possibilities are limitless as you can use any color paint to create a pattern that will complement the other components of your outside space.
Color Your Features
While some features aren't necessarily primed for painting, some can be colored to add interest to your outside landscape. For example, if you have a large stone in your yard, you may consider painting it to add a focal point. Almost any feature in your landscape or outdoor space could be fair game for painting, including bird baths, retaining walls, light posts, or handrails. If the surface is paintable, think about using it as a way to add more color to your space.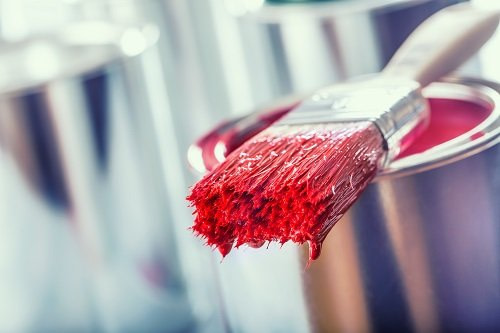 Exterior painting in Ahwatukee can help you reinvent and reinvigorate your outdoor space with creativity, color, and charm. By treating every surface as a potential canvas and dreaming big, you too can create an inviting, interesting outdoor space that expresses your personal style. For exterior painting services, contact Life in Color Painting Services at (480) 229-7615.