People freshen up the exterior of their homes for a variety of reasons. They want to enhance the curb appeal of their home increasing its value; they want to make their house into a home by using a color palette that speaks to those who live inside, or they paint to maintain their homes.
Regardless of the reason, you're considering painting your home right now, choosing a professional house painter in Queen Creek can seem like a daunting task. After all, you want your home to look its best, and you want the craftsmanship to last as long as possible. Fresh paint on cement fiberboard exterior can last up to 15 years, and painting a wood home is a 5-year commitment. So it's critical to get it right. Once you've selected a painting contractor, here is what you can expect: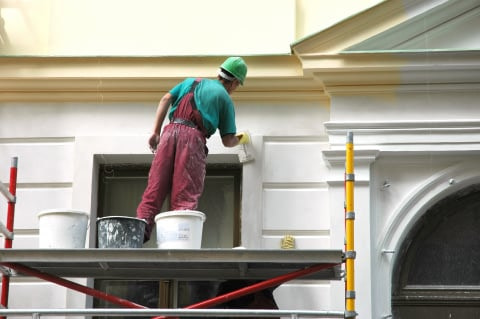 Surface Preparation
The key to a successful and long-lasting exterior paint job is actually in the preparation. There's a lot of work required before putting paintbrush to paint. Your contractor should begin by cleaning your home's exterior. This will likely be a power wash of some kind. Second, your professional painter will scrape any holes and sand it smooth. Next, your contractor will remove and replace old caulk in crevices and around windows. Finally, a professional painter will take steps to ensure easy cleanup. He or she will likely throw drop cloths over bushes, plants, decks, and anything you want to remain paint free.
Primer
Most professionals will coat your home's exterior with a primer before painting. The primer should ensure a flawless paint job, blocking stains that could bleed through your paint and helping the paint you've selected stick. The primer will help your paint job last as long as possible.
A professional painter will take special care in selecting the right primer to use based on the materials of your home's exterior. For example, expert exterior painters will select a high-quality latex or oil-based primer for wood that hasn't been stained. For wood that has been stained in the past, he or she will likely choose a primer designed specifically to block the stain from bleeding through the paint. There are primers available for almost every building material, and a professional painter will know which one will work best with your home's exterior and the paint you've selected.
Paint
Experienced painters generally apply paint in a specific order. Typically, your home will be painted from the top down. Your paint contractor will start painting siding first, before moving onto painting windows and trim. The foundation is generally the last part of the house to receive a coat of paint. Professionals use a variety of tools to ensure you love the finished product. Don't be surprised if your paint contractor uses brushes, rollers, and spray to apply paint to your home.
Evaluation
Once the work is complete, your contractor will want to have you check his or her work. The goal of the top professionals in the field is making sure the customer is happy. You should anticipate doing a quick walk around with the contractor once the work is done. If you haven't done so before now, be sure to ask about warranties. If your house needs a fresh coat of paint, call the professionals at Life in Color Painting.