While you might be completely comfortable with painting the rooms of your home, painting a house's exterior is an entirely different beast. It's a much more complicated, difficult, time-consuming, and potentially dangerous task, and it's really not one you should take on alone. The priming itself could take you days to complete, and you have to consider changes in the weather. If you want to paint the outside of a house in Chandler, AZ, here's what you need to know about just one part of the process: priming.
It's Not the First Step
First and foremost, you should know that priming is not the first step in this process. A great deal more prep work goes into exterior painting before you can even begin putting primer on the walls. You have to clean, sand, clean again, and mask the exterior surfaces first. So, if you're trying this yourself, don't jump straight into things, no matter how excited you may be about putting paint on your brush or roller. If you skip the prep work, you'll end up with a lousy paint job that won't look good and won't last long at all.
Why Is It Necessary?
So, why is primer so essential to exterior painting? Like with interior painting, the primer will help to cover any underlying color, making the top coat appear brighter and truer to the color that you selected. Additionally, it helps to seal the surface of any bare wood you may be painting on so that the wood isn't as heavily impacted by moisture and other outdoor elements.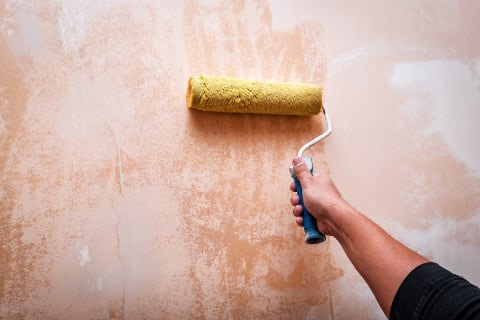 Get the Right Primer for the Substrate
Some bare substrates need a specific primer in order to properly seal the surface and prepare it for the top coat of paint. For example, you'll want to use oil primer on hardboard siding, but for concrete siding or masonry, latex primer works better. Be sure you're using the right primer for the substrate you're painting on. And if you're painting multiple types of surfaces, you may need to buy multiple kinds of primers.
Spot Prime Problem Areas
Certain areas and surfaces need a little extra attention when it comes to priming. This is where spot priming comes in. You may need to take a brush and apply an extra layer of primer to areas such as bare wood, which can absorb paint and primer, requiring an extra coat to cover it properly. Exposed nail heads also need spot priming because they can rust and ruin your paint job if not properly sealed. You should also spot prime any stains that may be showing through your initial coat of primer.
Once you've thoroughly primed all exterior surfaces that you intend to paint, you can finally crack open that beautiful exterior paint you've chosen. But the work is still far from over. We strongly recommend that all homeowners use a house painting service in Chandler instead of trying to do their own exterior painting. If you want your home painted, contact Life in Color Painting Services at 480-229-7615 today. Our professional and experienced painters can handle every step of the process, including sanding, priming, painting, and the final cleanup. Call now!