If you're looking for a unique summer project to get started on, you should consider painting your home's exterior brick surfaces. This significant home improvement can add a contextual upgrade to your exposed brick, but it's always essential to compare whether or not this project is right for you and your home. To learn more about what you should know about painting exterior brick surfaces this summer, keep on reading!
Pros and Cons of Painting Exterior Brick
Before starting your project of painting exterior brick on your property, you should consider the pros and cons. For example, if you end up not enjoying the paint color you covered your brick surfaces, there's little you can do to change it. Also, you'll need to repaint the brick every three to five years to maintain its appearance. However, painting exposed brick can give your home a better curb appeal, raising the overall value of your house.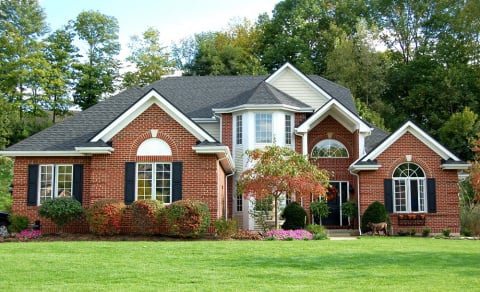 How to Prepare to Paint Exposes Brick
Before painting the exposed brick, you're going to want to clean the brick to get rid of any dirt or other debris that might make painting a challenge. Fortunately, you don't need to spend much, all you need is soapy water and a bristled brush. However, if you want to get this part over quick, you can rent out a pressure washer to clean off the brick surfaces (be careful not to damage the exposed brick). You should give your home a full 24 hours before painting to ensure the surfaces are completely dry.
Paints to Consider Using
There are a few different types of paint you can use to paint exposed brick. Depending on what color choice you want to go with, Behr provides Masonry, Stucco, and Brick Paint. This paint offers high-quality self-priming that also repels water and prevents mildew. You can apply this directly to the exposed brick once it's completely dry. If you're looking for a semi-gloss look, Benjamin Moore provides Aura Waterborne Exterior Paint, which is also water and mildew-resistant and self-primes. Another paint to consider is Premium Exterior Paint from Glidden, which is a high-quality option for brick painting. This type of paint can withstand the most severe weather and can resist mildew and dirt, which is ideal for preserving exposed brick surfaces.
How to Stain Your Exposed Brick
A large amount of brick paint self-prime and have a stain included, but you might want to stain your exposed brick surfaces primarily. If this sounds like you, you should follow the same prep work as painting your exposed brick to ensure the staining process doesn't damage your property. There are also many stain kits that you can use, which is the perfect tool for prominent DIY families. However, if you don't have the time to stain exposed brick yourself, consider hiring a professional.
If you're thinking about painting exterior brick surfaces this summer, there's a lot you should know, such as the prep process to prevent damage and the different types of paint and stain you can use. Although it may seem like a lot of work to update this area of your home, the result will look amazing. When you're ready to paint the outside of your house in Gilbert, contact Life in Color Painting, a painting contractor in Gilbert, to help you with this project.