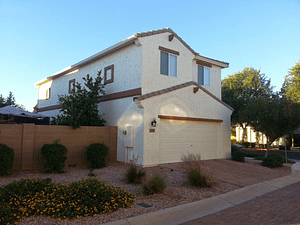 White painted exteriors are quickly becoming the next hottest thing, thanks to the latest trend toward minimalism for exterior house painting. Contrary to popular belief, white isn't just white; it turns out that there are a ton of shades!
In this article, we'll look at why you should paint your home's exterior white. We also list the best white exterior house paints to use so you don't have to compromise on durability or quality.
Top 3 Reasons to Use White to Paint Your Home's Exterior
White Makes Your Home Look Bigger
White paint is famous for its ability to brighten up a room, but did you know it could also make your house look bigger? White also won't fade from years of sun exposure like darker colors. This could be an incentive for homeowners looking to save money on their paint projects while maintaining their home's appearance.
White Makes Architectural Features Stand Out
The latest simplicity in décor trend: painting your house white! The crisp finish brings all of the little nuances together into one unified design scheme – especially when paired with a pop of color on the trim around the doors and windows.
White Adds Value to Your Home
Why else paint your house white? This clean, minimalist trend is so popular because it makes all of the colors and details of your home stand out. A fresh paint job also makes your home easy to market to potential buyers if you wish to relocate at some point down the line.
Clearly, this paint color is not just for prep work. It gives your home a modern and updated feel that appeals to a broad section of the market. White can also withstand the Arizona heat, and is less likely to fade over time.
Our Top 3 Picks for White Exterior House Painting Colors
Getting a new house built? Arctic White by Hardie Plank is the ideal choice for your home's exterior. It's perfect if you're looking for a white paint color that will give you a fresh look.
Oyster White is an undeniably soft white paint color that provides a sophisticated backdrop to any house with an ethereal, otherworldly feel. This white has the beauty of not being too light or too dark and pairs well with gray and brown accent tones, giving your home a modern feel.
Looking for a paint color that goes with everything? Choose Simply White by Benjamin Moore for the exterior of your home. This color mixes in a hint of yellow that gives the paint texture, warmth, and depth that's hard to resist.
Top Exterior Painting Contractor in Mesa, AZ
Have we convinced you yet on the merits of painting your home's exterior white? Life in Color Painting is the area's leading exterior painting contractor, offering top-rated exterior house painting services that will make your home the envy of your neighborhood.
We can help you choose the best paint color for your home and get the job done quickly. Go ahead and call us today at 480-229-7615 if you want an expert opinion about which color would be perfect for your home's exterior or contact us here.