If someone comes over to your house, no matter who they are, it's likely that you want to make a good first impression. The great thing about exterior front door paint is that it can remain attractive to those who even walk or drive by on the street, and a cheap front door can be at best neutral and at worst an eyesore.
There's a lot to consider when it comes to exterior door paint. Does the color make sense with the way the rest of your house is painted? Are you creating more harmony with your exterior front door paint, or just making your house appear more chaotic? Does your exterior front door paint look different with your outdoor lighting on? Here are some reasons why it might be a good idea to apply exterior front door paint to your house.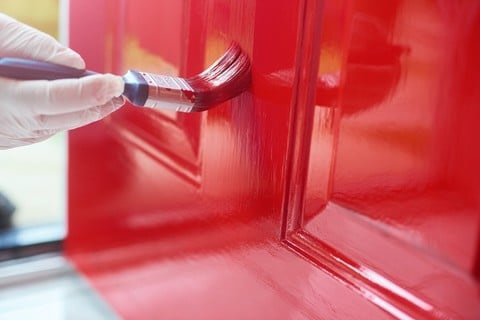 You Have a Large House
One of the most important rules when it comes to exterior front door paint is to consider the size of your house. Let's say that you have a small home that doesn't have any shutters. In this case, the general rule is to consider using exterior door paint that already uses some of the outdoor house colors.
However, this can appear a bit plain if you have a very large house. With a larger house, you may want to consider exterior front door paint that contrasts with your house. This is especially true if your house has a large number of windows and shutters, which is often the case with larger homes.
You Have an Antique Door
There's a chance that you may have an antique door that is either stained or has varnished natural wood. If this is the case, you may want to keep the varnish! Instead, homeowners could think about maintaining their door with a Spar varnish rather than using exterior front door paint. This kind of varnish can protect your door from UV rays, for example.
Ultimately, a door should always have clean varnish or exterior door paint at all times.
Additional Things to Consider
There are also many more decisions to be made besides the kind of exterior front door paint that you use. You might have decided to add many decorations to your door, but the truth is that this can end up looking a bit tacky. For those who are going for a more traditional look, consider placing a vase outside of your door. 
A storm door also can end up looking quite unwelcoming, and it can affect the way that your home looks aesthetically. If you do require a screen door or storm door of any kind, consider removing it during colder months.
These decisions are important to consider no matter what exterior door paint that you use, and there are also decisions to be made regarding the trim of the house, as well. Exterior front door paint should always contrast with the trim. One of the ways to make your exterior front door paint look better is to resist the temptation to paint your sidelights the same color as the door. It can end up giving your door a much neater appearance.